The Best Medicine
So, in an effort to "waken" the muse. I've been sitting here going through my blog archives. Though it hasn't served the purpose I had originally set out to accomplish, it has given me some much needed giggles AND some really happy memories. Today, I find that I am grateful that I have this blog to look back on, and along the way, have met some really great people that I now call friends. No, it wasn't what I was looking for when I sat here this morning...but another need was met and I can't help but think how really lucky I am. For now; a trip down memory lane is the perfect prescription.
Non-Carnivorous Bry
My poor son. He's never been much of a meat-eater. Since he was a toddler, he's turned his nose up at the things that most kids find the necessary foods of life; hot dogs, burgers, pepperoni pizza. He practically lives on pasta with a nice salad for DESSERT. As active as he is, I've always had to be particularly cognizant of his nutritional needs. During hockey season, I make sure there's lots of protein drinks in the house. When it's waterpolo, he prefers to woof down a bean burrito or two. I watch him constantly, knowing full well that there's not a smidge of fat on this kid's frame and that his metabolism runs at Mach II. I still wonder how he could possibly be mine.
His waterpolo awards banquet was held at a local rib joint. The rest of the team put the bone bucket in front of him. I think the expression on his face speaks volumes.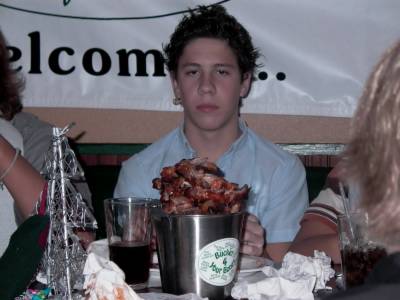 I'm Gonna Hurl